What makes us different
Our vast experience and partner relationships, gives us the ability to operate globally to meet the unique technology demands of organizations of any size.

Unique Consulting Approach
We ensure that you receive the solutions that are aligned with your businesses objectives rather than conform to a provider's offerings.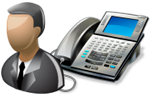 Filling the Technical Void
We understand that most don't have the resources to have a dedicated technical expert that focuses on communication technology.

Being a Trusted Advisor
Our consulting goals are to help implement the right solution and want to continue to earn your trust for the long term.
"Distributing near real time weather data to customers across the globe is a very complex task. Highly available telco is essential to our core business. I have used Insight Connections Group exclusively for the last 3 years. The quality of product, and service I receive from them allows me to dedicate my staffs time to weather products, without worrying without worrying about telco.
Gilbert Ochoa Director of Information Technologies, IPS Meteostar

How we help
We are there through each step of the process to make sure you get the latest technologies you need to run your business, smoothly and efficiently without the frustration that many times come from dealing with providers.
Global Cloud Virtualization & Colocation Services
Telecom Inventory and Expense Management Solutions
Global Voice & Collaboration Solutions
Internet Access
Solutions